For Emergencies Call 911 for Franklin County Dispatch
The mission of the Scruggs Volunteer Fire Department and Rescue Squad is to protect the lives and property of the people of Moneta, Wirtz and Hardy from fires, natural disasters, and hazardous materials incidents; to save lives by providing emergency medical services; to prevent fires through prevention and education programs; and to provide an environment that values health, wellness and cultural diversity and is free of harassment and discrimination. In addition, the Scruggs FST (Dive Team) provides water search, recovery services and underwater investigation for Smith Mountain Lake and the Commonwealth of Virginia.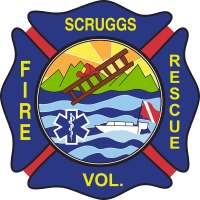 Contact
Scruggs Volunteer Fire Dept & Rescue Squad
PO Box 844
Hardy, VA 24101-0844P (540) 721-5245
F (540) 721-6003
E
contact@svfrd10.org
Join Today
We are always in need of volunteers to help us help the community in which we serve. We have a open positions in the Fire Department, Rescue Squad, and Dive Team. Join Today!!!